I wanted to start this post by saying that I am no foodie, but I think some of you will doubt because I usually post food on my social media. But what I am really trying to say of "not a foodie" is that I rarely go to a new restaurant to eat. I only had a handful of restaurant that I frequently visit, most of them I have been to more than 5 times.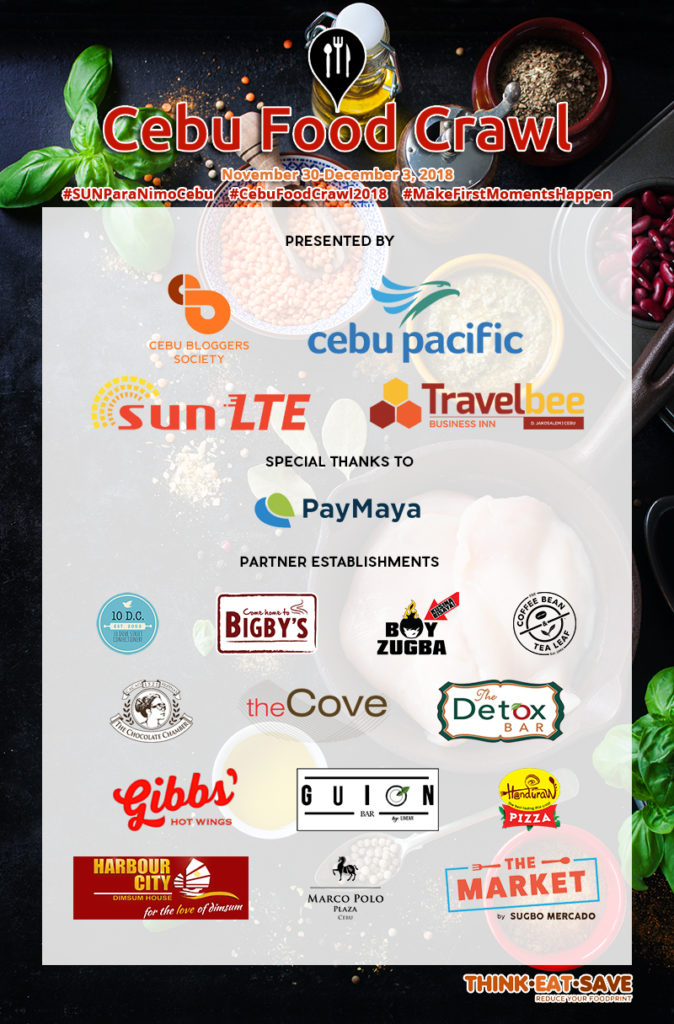 So, why is a person like me decided to join Cebu Food Crawl?
1. I believe that Cebu has a lot to offer in terms of food.
2. I love trying new things and food will be a good addition.
3. Family, friends, and colleagues often asked me for recommendations on where is the best place to eat in Cebu and what are the must eat in Cebu? So now I can firsthand help them instead of plainly relying on reviews.
Cebu Food Crawl is on its 4th year now and it started today. Yup! I have been eating more than usual today (Check Geemiz Instagram @geemiz) and I know there are more in the coming days till December 3, 2018. You can join us too – online by checking the following hashtags on all social media platforms #CebuFoodCrawl2018 #SUNParaNimoCebu #MakeFirstMomentsHappen #TravelBeePH and let us all have a culinary adventure around Cebu.
The four-day event supports the Zero Food Waste advocacy in-line with our theme this year on "Sustainable Dining".
Organizer and Presenters
Cebu Food Crawl is organized by the Cebu Bloggers Society, co-presented by SUN LTE (official network), Cebu Pacific Air (official airline), and TravelBee Business Inn (official residence). CFC is also supported by PayMaya and Grab.
Participating Establishments
1. Gibbs' Hot Wings
2. 10 Dove Street Confectionery
3. The Chocolate Chamber
4. The Market by Sugbo Mercado
5. Marco Polo Plaza Cebu
6. The Detox Bar
7. Dimsum House
8. Guion
9. Handuraw
10. The Cove
11. Bigby's
12. Boy Zugba
13. The Coffee Bean and Tea Leaf
Again you can join us in the gastronomic adventure by following these hashtags #CebuFoodCrawl2018 #SUNParaNimoCebu #MakeFirstMomentsHappen #TravelBeePH
Let me know in the comment below if you have visited the participating establishments and how is your experienced.
Connect with Geemiz
Facebook Twitter Google Plus Youtube Instagram