I am happier more than ever to be a part of Best cebu Blogs Awards committee. It is my 6th year and oh how gratfeul I am seeing the Cebu Bloggers community grow.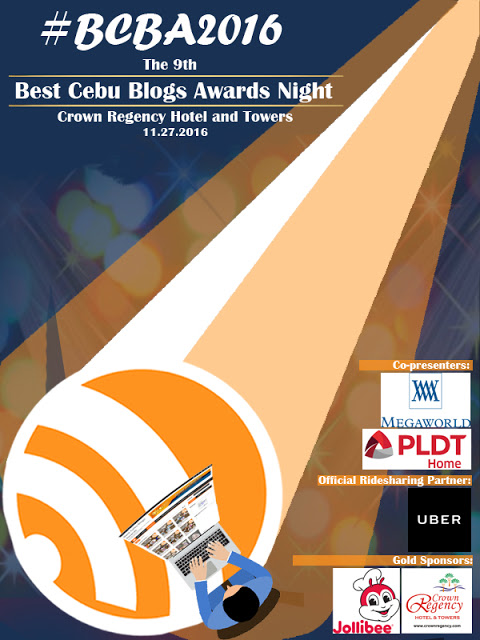 How time fly so fast, 2016 marks the 9th Best Cebu Blogs Awards.
The awarding ceremony is on November 27, 2016. A week earlier than the usual ceremony dates. The venue is at Crown Regency Hotel and Towers – 6:00pm-9:00pm.
November 29, 2016 Update – Winners are in Bold
The Finalists
Best Cebu Technology Blog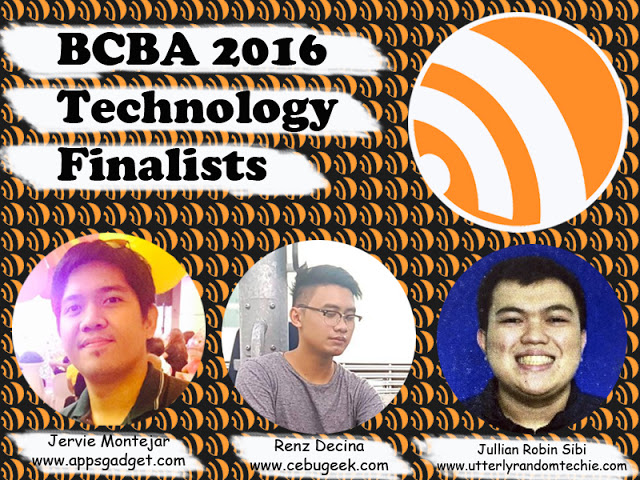 1. Jervie Montejar of www.appsgadget.com
2. Renz Decina of www.cebugeek.com
3. Jullian Robin Sibi of www.utterlyrandomtechie.com
Best Cebu Photo Blog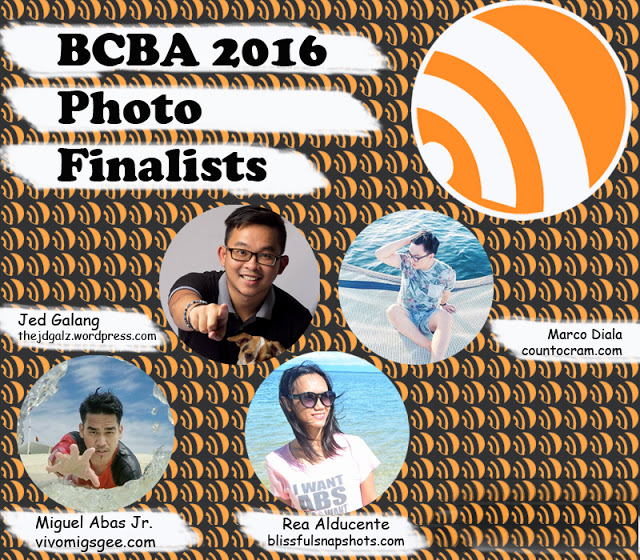 1. Jed Galang of thejdgalz.wordpress.com
2. Marco Diala of countocram.com
3. Miguel Abas Jr. of vivomigsgee.com
4. Rea Alducente of blissfulsnapshots.com
Best Cebu Entertainment Blog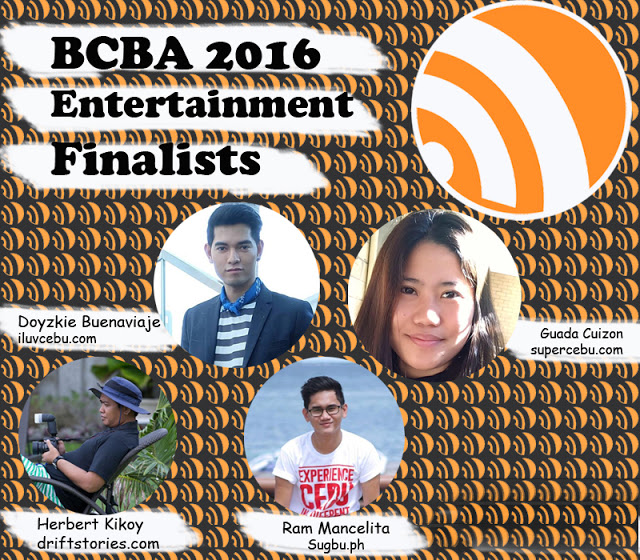 1. Doyzkie Buenaviaje of iluvcebu.com
2. Guada Cuizon of supercebu.com
3. Herbert Kikoy of driftstories.com
4. Ram Mancelita of Sugbo.ph
Best Cebu Style Blog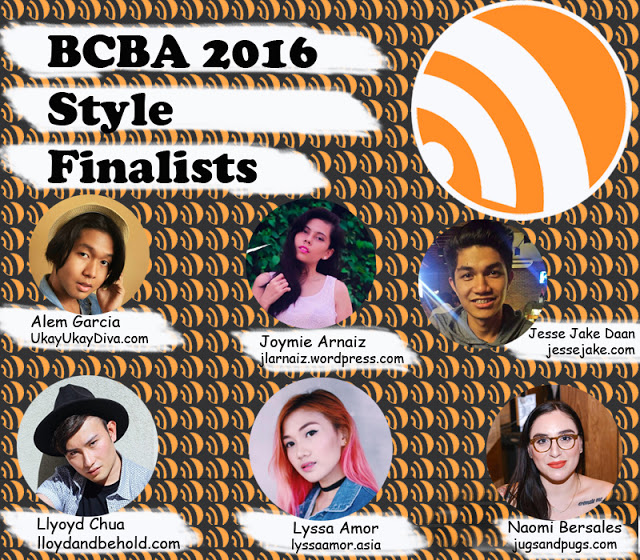 1. Alem Garcia of UkayUkayDiva.com
2. Jesse Jake Daan of jessejake.com
3. Joymie Arnaiz of jlarnaiz.wordpress.com
4. Lloyd Chua of lloydandbehold.com
5. Lyssa Amor of lyssaamor.asia
6. Naomi Bersales of jugsandpugs.com
Best Cebu Travel Blog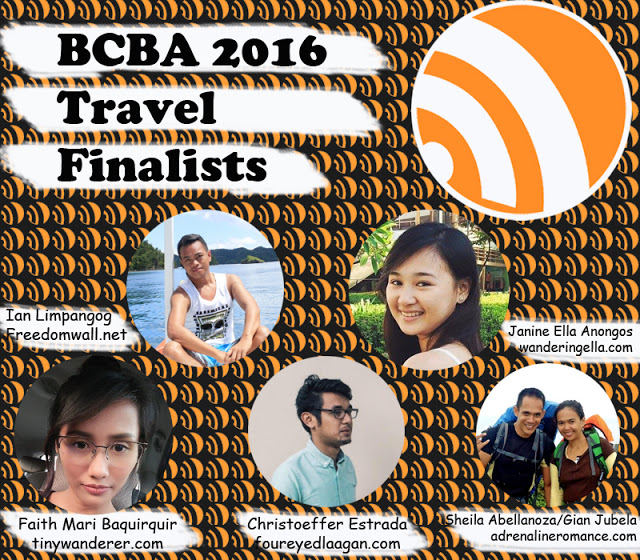 1. Ian Limpangog of freedomwall.net
2. Janine Ella Anongos of wanderingella.com
3. Faith Mari Baquirquir of thetinywanderer.com
4. Christoeffer Estrada of foureyedlaagan.com
5. Sheila Abellanoza and Gian Jubela of adrenalineromance.com
Best Cebu Personal Blog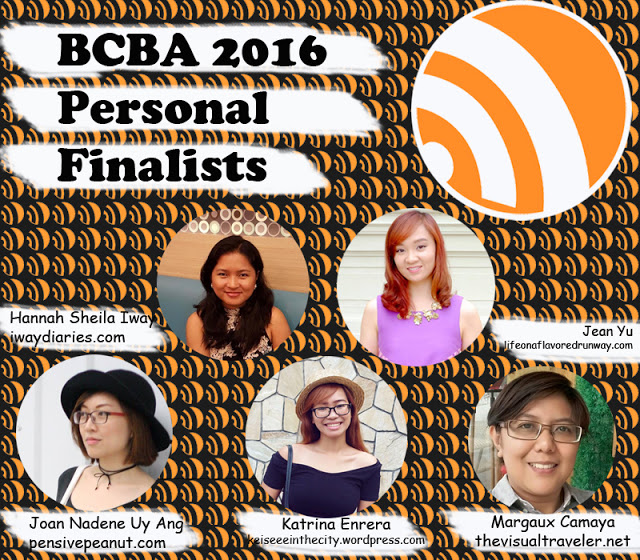 1. Hannah Sheila Iway of iwaydiaries.com
2. Jean Yu of lifeonaflavoredrunway.com
3. Joan Nadene Uy Ang of pensivepeanut.com
4. Katrina Enrera of keiseeinthecity.wordpress.com
5. Margaux Camaya of thevisualtraveler.net
Best Cebu Food Blog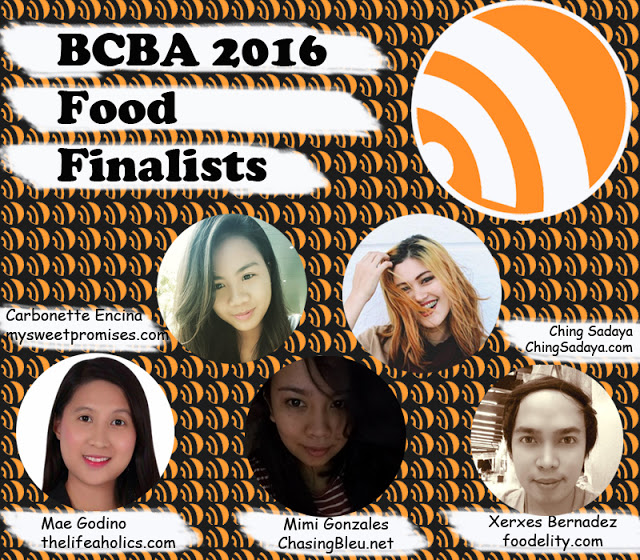 1. Carbonette Encina of mysweetpromises.com
2. Ching Sadaya of chingsadaya.com
3. Mae Godino of thelifeaholics.com
4. Mimi Gonzales of chasingbleu.net
5. Xerxes Bernadez of foodelity.com
Other Awards
Best Creative Writing in a Blog – Christoeffer John Restauro Estrada of foureyedlaagan.com
Best Blog 2016 by Megaworld –  Sheila Abellanoza & Gian Jubela of adrenalineromance.com
UBER Influencer Award –  Ram Mancelita of Sugbo.ph
This prestigious awarding night would not be possible without our dear sponsors.
Co-Presenters
PLDT HOME
Megaworld Corporation
Official Ridesharing Partner
Uber
Gold Sponsors
Crown regency Hotel & Towers
Jollibee
Bronze Sponsors
Huawei
Donor Sponsors
Krispy Kreme
Greenwich
Starbucks
Memoriter Writing Services
JKA Glass Enterprise
JAVDERS Cebu Projectors for Rent
Media Partners
cebu Bloggers Society
Official Photographer
Alvin Asayas Photography.
I would love to meet and hear from you. Connect with GeeMiz
Like Geemiz in facebook | Circle geemiz in Google Plus | Follow @geemiz in twitter | Follow Geemiz Instagram |Subscribe Geemiz Youtube